You may be thinking: what kind of global warming is it when it's still cold outside, my winter jacket is hanging in the hallway, and my sled is still unshrouded? Let's get it straight – climate and weather are two different things. Weather is the current state of meteorological conditions in a given area and at a given time. It is chaotic and difficult to predict accurately. After all, we all leave the house in the morning in just a t-shirt or shorts and… regret it later.
On the other hand, the climate is the average state of weather parameters recorded during the current reference period. Significantly, only a few decades ago, a single reference period accounted for as much as 30 years. Nowadays, climate change is developing so rapidly that the World Meteorological Organisation suggests updates every decade.
Therefore, a warming climate does not mean that every year will be record warm. What is more, the following year may even be exceptionally cold. If it is currently freezing and snowing outside our period, we are simply seeing a short-term weather phenomenon. On the other hand, climatologists observe climate change based on long-term observations.
Data for 2021 confirm global warming
Climate change scientists take a close look at the data and phenomena from one year to the next. That's how we know that 2020 and 2016 were by far the warmest years ever measured. Moreover, with last year's data in hand, we can confidently say that the nine years between 2013 and 2021 historically rank among the ten warmest years.
The year 2021 ranks fifth (according to scientists from the Copernicus Climate Change Service, C3S programme, carried out by the European Centre for Medium-Range Weather Forecasts) and sixth (from research by NOAA and NASA, i.e. the National Oceanic and Atmospheric Administration and the National Aeronautics and Space Administration). This means that the rates for last year are similar to those recorded in 2018.
According to the US agencies, the average global surface temperature was 0.84°C higher than the 20th-century average. By contrast, as reported by C3S, the Earth's average temperature in 2021 was about 1.1°C higher than the pre-industrial average.
Global warming is not just about rising temperatures
In addition to the temperature-related statistics, it is worth noting other NOAA observations that occurred last year.
– The global ocean upper heat content (OHC) was at a record high in 2021, surpassing the previous record set in 2020. All seven of the highest OHCs occurred in the past seven years (2015-2021).
– Last year's average annual snow extent in the Northern Hemisphere was 9.39 million square miles, the seventh smallest in the 1967-2021 record.
– Arctic sea ice extent in 2021 was about 4.08 million square miles. This is the ninth smallest result in the 1979-2021 record. Over the past seven years (2015-2021), the annual sea ice extent was among the ten smallest on record.
– Antarctica's sea ice extent was approximately 4.42 million square miles in 2021 and was determined to be below average. No month in 2021 saw record low or high sea ice extent.
It is worth remembering that global warming does not just mean that things will be 'a bit warmer'. The side-effect of rising temperatures is also a more frequent occurrence of so-called severe atmospheric phenomena. For example, a warmer atmosphere can hold more water vapour, promoting precipitation. In turn, more water evaporates from the soil, plants, and water bodies, resulting in drought. 2021 was full of such atmospheric phenomena and attracted the attention of climatologists.
When a heatwave swept across the Mediterranean in July and August, intense forest fires occurred. People in Turkey, Greece, Italy, Tunisia, and Algeria were hit particularly hard. Severe weather events in Europe also include flooding, which has led to devastation in parts of Germany, Belgium, and the Netherlands.
Moreover, last year saw above-average tropical cyclone activity. There were 94 named storms. This ranks 10th among the 41-year-old records regarding the number of named storms. There were 21 named storms in the North Atlantic, the third-highest number of named storms in the basin.
More data on the number of severe weather events can be seen in the NOAA graphic.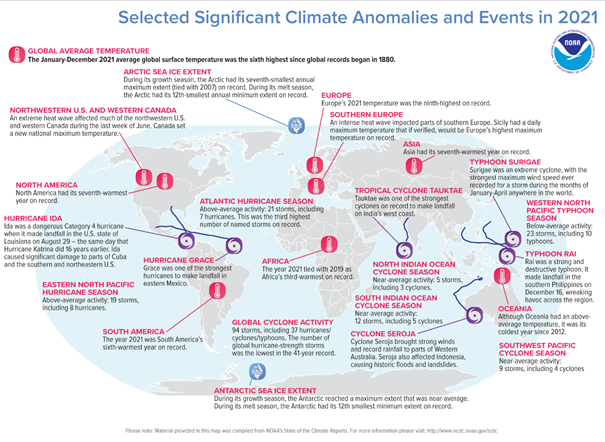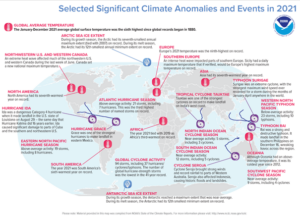 Global warming requires global efforts
Climate change can therefore be seen and felt around the world. That is why it is essential to strive to halt global temperatures rise. And just as carefully as the effects are tracked, solutions are sought after. Scientists agree that stopping global warming requires cutting greenhouse gas emissions – by half by 2030 and to zero by 2050. The good news is that it is possible, and we all can influence it. Just as systemic and wider business changes are needed, so are changes to our habits.
Join the TerGo community. Follow our social media and blog and learn how to make everyday actions good for the climate!